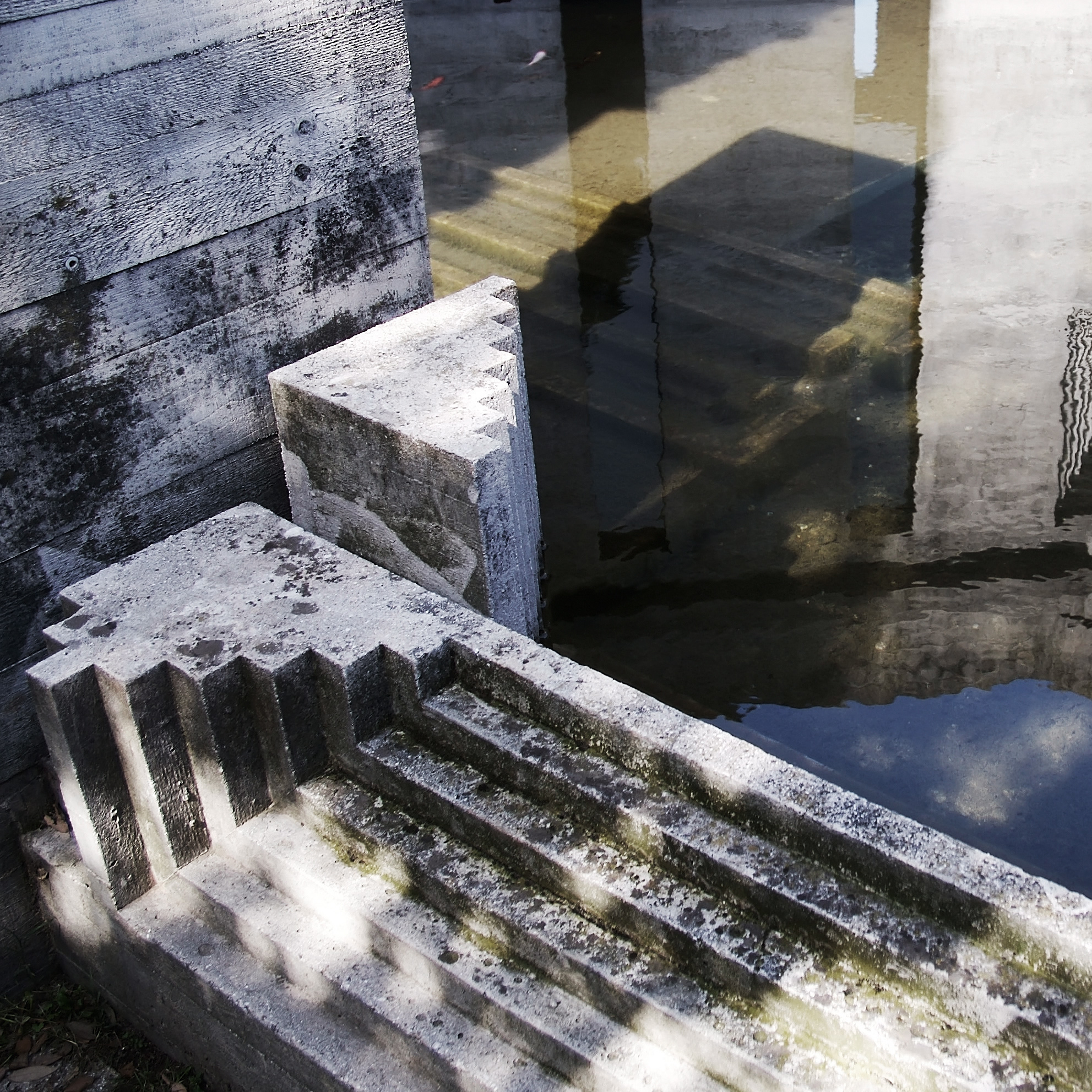 Pulitzer Prize jury
Brion, a sextet for piccolo (doubling alto flute), oboe, mandolin, guitar, violin, and cello (2008)
"[A] sonic portrait of a cemetery in northern Italy painted with the touch of a watercolorist and marked by an episodic structure and vivid playfulness that offer a graceful, sensual and contemplative experience."
– Pulitzer Prize jury, April 20, 2009
The Washington Post
"The Library of Congress' tribute to Fritz Kreisler… had an unintended consequence… it also showed him to be little more than a dilettante composer.
Harold Meltzer's intriguing sextet Brion, a finalist for the Pulitzer Prize in 2009, provided the damning comparison. Based on Meltzer's visit to Carlo Scarpa's postmodern mausoleum and garden for the Brion-Vega family, near Venice, the work is a haunting evocation of the site's enveloping silence and architectural gestures to the meeting with infinity it commemorates. The almost toneless twittering of breathy piccolo, in imitation of the birds that pierce the quiet, punctuates the work structurally. Folksy or bluesy guitar and mandolin formed transitions between sections, and quasi-minimalist repetitions set in motion jagged, dissonant motifs, with the oboe getting the only soaring melody, set clarion-high. The Cygnus Ensemble, which made the first recording of the work (for Naxos), performed this rewarding music expertly, with James Baker's clear conducting as rhythmic guide."
– Charles T. Downey, The Washington Post, February 5, 2012
Postclassic
"Harold Meltzer's new sextet Brion, played by the Cygnus Ensemble here at Sacramento State last night, opened with a quiet piccolo solo playing the same motive over and over. It was a high note followed by several staccato repetitions of a low note. Pianissimo string chords played underneath. At first the relation between them was tonal, but it branched out into bitonality and mild dissonance. Lasting maybe a virtual minute in experienced musical time, it was lovely. But what was better was that, almost halfway through the piece, the whole section came back. By writing that passage, Harold created beauty; by repeating it, he gave it to the audience. We could now take it home. It was a generous gesture, generous toward the audience."
– Kyle Gann, Postclassic, November 8, 2008
American Record Guide
"The Brion-Vega cemetery stands in the countryside east of Venice, and it inspired Harold Meltzer to write Brion, for mixed sextet. The modern addition to the cemetery was designed in the 70s by famed architect Carlo Scarpa and is a beautiful example of the best that post-modernism can achieve. Harmonious and eclectic, it is really no wonder that it planted a musical seed in fertile ground. The piece is uniquely descriptive, in that each of its three movements describes an actual visit to the site, down to the approximate relative durations: an initial visit; a second, more extended visit after a break; and then a final short look about after yet another break. The piece is pattern-oriented, with sections of unchanging pulse overlaid with melodic structures. It brings to mind the clean, harmonious lines of the architecture in an uncanny way, and contains much delicacy and expert instrumental writing. It is no surprise it was a finalist for the 2009 Pulitzer Prize.
— Ira Byelick, American Record Guide, March/April 2011
The New York Times
"The last work on the program was also the most substantial: Harold Meltzer's three-movement "Brion," a finalist for the Pulitzer Prize last year, evoked an Italian cemetery with a strong, memorable opening theme and deft allusions to shimmering pools and shifting light."
– Steve Smith, The New York Times, April 6, 2010
San Francisco Chronicle
"Brion, a beautiful instrumental sextet that was a finalist for the 2009 Pulitzer Prize, alternates between sharply etched textures and more soft-focus writing to evoke a cemetery in the Italian countryside."
— Joshua Kosman, The San Francisco Chronicle, October 31, 2010
The New York Times
"The American composer Harold Meltzer's Brion, a runner-up for the 2009 Pulitzer Prize in music, is a haunting, quirky and continually inventive chamber work for a small ensemble including guitar and mandolin. It receives an elegant, colorful performance on a splendid recording of four fascinating chamber and vocal works by Mr. Meltzer."
— Anthony Tommasini, The New York Times, November 26, 2010
Fanfare
"Harold Meltzer has not, as far as I know, written a large body of work, but he seems to write pieces of scrupulous craft and exceptional freshness, which makes each seem like an important contribution. Part of the trick (I think) is that Meltzer needs to find a unique take on any piece, and in particular its sound world, before he can write. (I remember attending a presentation where he played the recording of a solo flute piece written for Patricia Monson, which rethought the instrument from the inside out, without indulging in manneristic extended techniques, only necessary ones.) As a result, his music projects a consistently distinct character.
"And that character is? Well, it tends to feature brightly contrasted colors that simultaneously aren't flashy. Rather, they provide delight in their well-calibrated contrasts one to another. The little low-register piccolo lick at the start of the 2008 Brion is an example — I still can't get it out of my head a few days later.
"Another aspect I hear throughout is an ability to take simple, clear ideas and enliven them by putting them in a new context. Sometimes this is the aforementioned mix of colors. At other times it's more complex modernist textures. At still others it's a dreamlike archaism; one feels as though one is hearing music from a distant time through a glass darkly. He's also unafraid of repetition, but also not obsessive, as in some Minimalist musics. And finally, there's a lovely recurrent danciness. All these point toward Stravinsky as a progenitor, and indeed annotator Andrew Waggoner makes the apt comparison to Agon as a model. The good news is not just that Meltzer should gravitate to such a classy piece, but that he also doesn't write a simple knockoff. The music's energy and play are entirely his own. This is particularly true of Brion, which is a three-movement evocation of a visit by the composer to the Brion-Vega cemetery designed by Carlo Scarpa, near Venice. The seamless blend of modern and ancient tropes in the architecture is mirrored precisely in the music.
— Robert Carl, Fanfare, Issue 34:4 Mar/Apr 2011
Fanfare
"Distinctive timbres are demonstrated very well in the disc's opening work, Brion (2008), which is scored for the unusual configuration of the Cygnus Ensemble: two plucked instruments (in this case guitar and mandolin), flute, oboe, violin, and cello. The piece is inspired by the Brion-Vega cemetery (near Venice), the 1970s work of Italian architect Carlo Scarpa. In the booklet notes, Meltzer describes the form of the piece (which consists of three movements of uneven length: 6:13, 10:33, 1: 00) as mimicking his visit to the cemetery: "I explored much of it for an hour, took a break, then went back in for another spell, almost twice as long, seeing the things I hadn't seen and retracing my steps to some of the places I'd seen before. Then, after a second break, I had a last look around." It is an extremely beautiful and often very delicate piece."
— Carson Cooman, Fanfare, Issue 34:4 Mar/Apr 2011
NewMusicBox
"The immediate attraction for me of Rumors and Virginal was Meltzer's love for unusual timbres and his ability to seamlessly weave variants of short motives around them. So it has been particularly gratifying to become familiar with this collection's opener, Brion, a 2008 work that garnered Meltzer the Pulitzer nod in 2009. Scored for the unusual "broken consort" Cygnus Ensemble, which combines flute (piccolo and alto), oboe, violin and cello with plucked strings (herein guitar and mandolin), Brion very cleverly plays off the differences between the instrumentation by passing a short pensive motive, which can be heard at the very opening in the piccolo, throughout the ensemble. When the flute plays it, it almost sounds like a slowed-down bird song, but when it finally appears in the mandolin (in the extremely brief final third movement) it sounds like it is emanating from the subconscious of a lost gondolier. As luck would have it, according to composer Andrew Waggoner's accompanying program notes for the CD, Meltzer composed Brion after visiting the Brion-Vega cemetery in the countryside east of Venice."
— Frank J. Oteri, NewMusicBox, October 26, 2010
Sequenza21
"The Cygnus Ensemble makes a palpable delineation between these two musical approaches on their sharply etched recording of Brion (2008). This piece was a finalist for the 2009 Pulitzer Prize in Music, and one can hear why. It's fastidious in its craftsmanship, yet abundantly imaginative. Centering around a bird call-based ritornello refrain, which easily moves between foreground and background presentation, its intricate design is just the type of work that's tailor made for Cygnus' modernist performance specialists. And Brion isn't sparing in its technical demands either. Guitar flurries are matched by virtuosic flute passages in several bustling duos. But the ritornello supplants this with an eerily pastoral music suffused with chirping birds and, at the piece's close, an intriguing, if somewhat uneasy, sense of harmonic closure."
— Christian Carey, Sequenza21, November 14, 2010
Gapplegate Music Review
"Brion is a chamber gem, with vivid writing for guitar, mandolin, winds and strings. It's 18 minutes of musical bliss, well worth the price of admission."
— Gapplegate Music Review, November 19, 2010
New York Classical Review
"Meltzer's opener, Brion, despite its seeming facade as absolute music, was a piece of modern impressionism. Rather than a representation of landscape, the music was an expression of Meltzer's internal experience of the Brion-Vega Cemetery, near Venice, Italy, designed by architect Carlo Scarpa—a seeming place for contemplation and intellectual daydreaming.
"Written for the unusual instrumentation of flute, oboe, violin, cello, guitar, and mandolin (the Cygnus Ensemble commissioned it), the music made imaginative use of the combinations of voices. Meltzer spoke to the crowd before the performance and mentioned the particular challenge of putting flute and oboe together. He cleverly solved the issue by having the flutist—Tara Helen O'Connor—doubling on piccolo and alto flute, and floating aloe the textures to represent a bird or haunting the oboe from underneath. He also created a marvelous and mysterious sound by doubling pitches with piccolo and violin, the latter playing bent notes.
"The music gave the sense of shifting scenes and ideas as one strolled through the cemetery, listening to the natural sounds and stopping now and again to regard a monument or a decorative pool. This was an active tour, with a surplus of rhythmic vitality, especially in the complex, contrapuntal guitar and mandolin parts (Oren Fader and William Anderson, respectively). Episodic as the music went past, Brion gestured toward sonata form in the end, as the opening bird calls heard on piccolo returned on the mandolin, transformed by the internal journey."

— George Grella, New York Classical Review, October 28, 2016