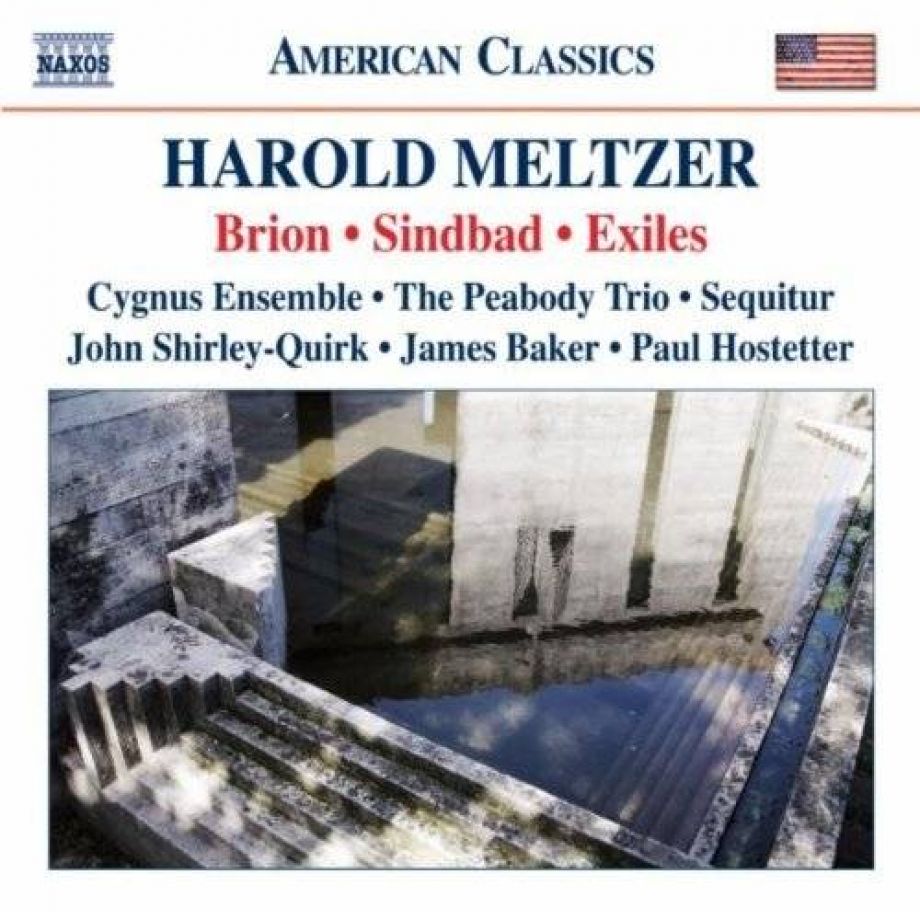 Brion, Sindbad, Exiles — Naxos American Classics (2010)
Brion
American Record Guide
"The Brion-Vega cemetery stands in the countryside east of Venice, and it inspired Harold Meltzer to write Brion, for mixed sextet. The modern addition to the cemetery was designed in the 70s by famed architect Carlo Scarpa and is a beautiful example of the best that post-modernism can achieve. Harmonious and eclectic, it is really no wonder that it planted a musical seed in fertile ground. The piece is uniquely descriptive, in that each of its three movements describes an actual visit to the site, down to the approximate relative durations: an initial visit; a second, more extended visit after a break; and then a final short look about after yet another break. The piece is pattern-oriented, with sections of unchanging pulse overlaid with melodic structures. It brings to mind the clean, harmonious lines of the architecture in an uncanny way, and contains much delicacy and expert instrumental writing. It is no surprise it was a finalist for the 2009 Pulitzer Prize.
"2 Songs from Silas Marner is a very sensitive and moving setting of prose segments from the novel by George Eliot, for soprano and cello. Elizabeth Farnum's voice is more appropriate in the beginning of the first song, where she sings without vibrato. The cello accompaniment is beautifully wrought and performed, and the songs are very effective, especially the first.
"The other, longer, set of two songs here is Exiles, for baritone and chamber ensemble. Meltzer sets a poem by Conrad Aiken and one by Hart Crane (from a Chinese source), both of them called 'Exile'. They are in many ways more traditional than the Silas Marner songs, for all of their coloristic and atonal accompaniment.
"The longest piece on the recording, and the most interesting, is Sindbad (2004-5) for narrator and piano trio, based on a short story by Donald Barthelme that tells of a community college professor who always teaches at night and who is obsessed with Sindbad, the hero of Arab folklore. The professor is asked to teach some day classes as a substitute, and wrestles with gaining the acceptance and respect of the students. What sounds banal in description becomes something really quite wonderful and strange in this 10-movement work, not only by the brilliance of Barthelme's writing, but by Meltzer's perceptive music. It contains moments of surpassing beauty, moments where one is driven to stop and consider, to contemplate the play of meaning. The Peabody Trio does a fine job, and John Shirley-Quirk is magnificent."
— Ira Byelick, American Record Guide, March/April 2011
San Francisco Chronicle
"The Naxos label's indispensable series exploring the range of contemporary American music produces a winner with this splendid collection of chamber and vocal works by New York composer Harold Meltzer. His music joins a wry literary sensibility with a keen and often poignant instrumental palette to yield music that is both tender and incisive. Most striking, at least in the four works included here, is Meltzer's harmonic language, which draws on tonal and modal approaches without quite committing to either. Brion, a beautiful instrumental sextet that was a finalist for the 2009 Pulitzer Prize, alternates between sharply etched textures and more soft-focus writing to evoke a cemetery in the Italian countryside. Two songs for soprano and cello set texts from, of all things, George Eliot's Silas Marner, and do it with a compelling air of reverie. But the gem of the disc is Sindbad, a witty and melancholic treatment of a Donald Barthelme story about a would-be hero who teaches literature at a community college. It's a subtle and imaginative piece, and it gets a first-rate performance by the Peabody Trio with the great English bass-baritone John Shirley-Quirk as narrator."
— Joshua Kosman, The San Francisco Chronicle, October 31, 2010
The New York Times
"The American composer Harold Meltzer's Brion, a runner-up for the 2009 Pulitzer Prize in music, is a haunting, quirky and continually inventive chamber work for a small ensemble including guitar and mandolin. It receives an elegant, colorful performance on a splendid recording of four fascinating chamber and vocal works by Mr. Meltzer."
— Anthony Tommasini, The New York Times, November 26, 2010
Fanfare
"Harold Meltzer has not, as far as I know, written a large body of work, but he seems to write pieces of scrupulous craft and exceptional freshness, which makes each seem like an important contribution. Part of the trick (I think) is that Meltzer needs to find a unique take on any piece, and in particular its sound world, before he can write. (I remember attending a presentation where he played the recording of a solo flute piece written for Patricia Monson, which rethought the instrument from the inside out, without indulging in manneristic extended techniques, only necessary ones.) As a result, his music projects a consistently distinct character.
"And that character is? Well, it tends to feature brightly contrasted colors that simultaneously aren't flashy. Rather, they provide delight in their well-calibrated contrasts one to another. The little low-register piccolo lick at the start of the 2008 Brion is an example — I still can't get it out of my head a few days later.
"Another aspect I hear throughout is an ability to take simple, clear ideas and enliven them by putting them in a new context. Sometimes this is the aforementioned mix of colors. At other times it's more complex modernist textures. At still others it's a dreamlike archaism; one feels as though one is hearing music from a distant time through a glass darkly. He's also unafraid of repetition, but also not obsessive, as in some Minimalist musics. And finally, there's a lovely recurrent danciness. All these point toward Stravinsky as a progenitor, and indeed annotator Andrew Waggoner makes the apt comparison to Agon as a model. The good news is not just that Meltzer should gravitate to such a classy piece, but that he also doesn't write a simple knockoff. The music's energy and play are entirely his own. This is particularly true of Brion, which is a three-movement evocation of a visit by the composer to the Brion-Vega cemetery designed by Carlo Scarpa, near Venice. The seamless blend of modern and ancient tropes in the architecture is mirrored precisely in the music.
"The rest of the program is vocal music, and this was a realm of the composer's work I hadn't known before. The Silas Marner songs take unpromising prose, and with a sinuously "weaving" cello accompaniment become quite direct and engaging, in such a way that deeper meanings seem revealed. Exiles is from 2001, and sets two texts, one by Conrad Aiken, the other a translation from the Chinese by Hart Crane. It's probably the most conventionally modernist work on the program, though its accompaniment of glistening, revolving pitches, a little like wind-chimes, gives it a hushed and intense air.
"But pride of place goes to Sindbad, for narrator and piano trio. When I saw the title, I thought: What? A children's piece? A fairy-tale fantasy? No, rest easy. The title is from the eponymous story by Donald Barthelme, the master of New York deadpan surrealism. Starting in full flower with the swashbuckling tale, it then suddenly veers into the first-person experience related by a timid professor, confronting students whose contempt for him is all too evident. Over time, it actually becomes clear that the entire text is speaking to the need of everyone to discover his/her own inner adventurer, and confront demons. But the message is never didactic, and the text has moments that are hysterically funny (at least to me, a professor). Meltzer's music is unassuming but simultaneously fully in tune with the spirit of the text. It stands up as a parallel commentary, never serving as mere cues. John Shirley-Quirk embodies the double persona of the story with a plummy English accent, flamboyant at one moment, timid at the next. The genre of music with narration is one that has a checkered track record; this piece is a success.
"This is the music of a strong voice, mature and focused, but never tripping up on over-seriousness. It gets a reservation for possible Want List inclusion at year's end."
— Robert Carl, Fanfare, Issue 34:4 Mar/Apr 2011
Fanfare
"New York-based composer Harold Meltzer (b. 1966) has received significant attention in the past few years; in addition to a Guggenheim Fellowship and a residency at the American Academy in Rome, he was awarded the 2008 Barlow Endowment Prize (to compose a new string quartet) and was one of two Pulitzer Prize finalists in 2009 (for Brion). Though Meltzer began his career as a composer (studying at Cambridge and Yale), he took a brief detour to law school; after practicing law for several years, he returned exclusively to music. He has since worked as a freelance composer in New York City, founded the Sequitur new music ensemble, and is now a faculty member at Vassar College. If Meltzer was even half as good a lawyer as he is a composer, he was a great loss to the legal field; regardless, I am extremely pleased that he was "reclaimed" by music!
"Though Meltzer's work has been performed with frequency, this is the first CD devoted entirely to it and is thus a very welcome release. The most notable property of Meltzer's musical language is an extensive use of ear-catching and unusual timbres. However, these timbres are always deployed in the service of a compelling musical argument; there is never the sense of "sound effects". Meltzer also tends to focus, at any given time, on a subset of instruments from the larger ensemble of a given work. The overall result is a very personal blend of immediate lucidness and sonic creativity that produces an extremely compelling result.
"Distinctive timbres are demonstrated very well in the disc's opening work, Brion (2008), which is scored for the unusual configuration of the Cygnus Ensemble: two plucked instruments (in this case guitar and mandolin), flute, oboe, violin, and cello. The piece is inspired by the Brion-Vega cemetery (near Venice), the 1970s work of Italian architect Carlo Scarpa. In the booklet notes, Meltzer describes the form of the piece (which consists of three movements of uneven length: 6:13, 10:33, 1: 00) as mimicking his visit to the cemetery: "I explored much of it for an hour, took a break, then went back in for another spell, almost twice as long, seeing the things I hadn't seen and retracing my steps to some of the places I'd seen before. Then, after a second break, I had a last look around." It is an extremely beautiful and often very delicate piece.
"Despite using a single accompanying instrument (cello), the striking Two Songs from Silas Marner (2000-01) abound in colorful sounds. For the first movement, the cello plays almost entirely in harmonics; in the second, an interlocking two-voice cello texture (sounding often like a viola and cello in duet) is created through extensive use of double-stopping. Though the smallest work on the disc, it is my personal favorite. Sindbad (2003), an extended work for narrator and piano trio, uses excerpts from a short story by Donald Barthelme as its text; Barthelme's story tells of a hapless night-college professor who imagines himself as the Sindbad of legend. Works with narrator are notoriously hard to write effectively, but Meltzer achieves admirable integration of the story's drama with the music; he employs a vignette-like musical structure, in which an array of striking musical ideas pass by extremely quickly but never get in the way of the recitation. Exiles (2001) is a diptych for tenor and ensemble based on a poem of Conrad Aitken and a translation from the Chinese by Hart Crane. The work is largely dark and elegiac in tone.
"The performances are all superb. The Cygnus Ensemble has long distinguished itself as one of New York's finest new-music ensembles (and has brought about a remarkable amount of excellent music for its unusual configuration). The other fine performers include NYC new-music mainstays like Elizabeth Farnum, Gregory Hesselink, and James Baker. Sindbad is narrated by the very distinguished English bass-baritone John Shirley-Quirk, now retired from singing, but thankfully still performing. This disc presents an excellent introduction to Harold Meltzer's work, and it is music that is well worth hearing indeed."
— Carson Cooman, Fanfare, Issue 34:4 Mar/Apr 2011
NewMusicBox
"Although Harold Meltzer has garnered quite a few accolades over the past decade–a Guggenheim Fellowship, an American Academy in Rome residency, and the Barlow Prize, plus he was a finalist for last year's Pulitzer–his music has been surprisingly underrepresented on commercial recordings up until now. Patti Monson recorded the four movements of his powerhouse extended-technique driven solo flute workout, Rumors, both for CRI and subsequently for Albany, and his surreal 2002 harpsichord concerto Virginal appeared on another Albany disc collecting four concertos performed by the ensemble Sequitur, for which Meltzer serves as co-artistic director. But the present disc on Naxos American Classics is the first recording devoted exclusively to his music. It's great to finally have an extended encounter with his compositional output.
"The immediate attraction for me of Rumors and Virginal was Meltzer's love for unusual timbres and his ability to seamlessly weave variants of short motives around them. So it has been particularly gratifying to become familiar with this collection's opener, Brion, a 2008 work that garnered Meltzer the Pulitzer nod in 2009. Scored for the unusual "broken consort" Cygnus Ensemble, which combines flute (piccolo and alto), oboe, violin and cello with plucked strings (herein guitar and mandolin), Brion very cleverly plays off the differences between the instrumentation by passing a short pensive motive, which can be heard at the very opening in the piccolo, throughout the ensemble. When the flute plays it, it almost sounds like a slowed-down bird song, but when it finally appears in the mandolin (in the extremely brief final third movement) it sounds like it is emanating from the subconscious of a lost gondolier. As luck would have it, according to composer Andrew Waggoner's accompanying program notes for the CD, Meltzer composed Brion after visiting the Brion-Vega cemetery in the countryside east of Venice.
"The Two Songs from Silas Marner, composed in 2000, are spare settings from George Eliot's famous novel, scored for just a solo soprano and cello. Yet they are remarkably full and frequently gorgeous. The much more expansive Exiles, from the following year, ups the ante, accompanying a baritone with four instruments–flute, clarinet (doubling on bass clarinet), violin, and cello. The text for Exiles is taken from two poems, both titled "Exile," which offer very different perspectives. The first, by Conrad Aiken, is quite bleak and intense, and Meltzer's music is the perfect match. This mostly ascetic music is a far cry from the freneticism of Brion, Rumors, and Virginal. The second, Hart Crane's adaptation of a classical Chinese poem, is even more austere with frequent solo instruments exposed against the vocal line. It is deeply haunting in its introspection.
"And then there's Sindbad for piano trio and narrator, completed in 2005. I must confess that pieces of music featuring narration have always been something of a disconnect for me, so it was with some trepidation that I approached listening to this piece the first time around, even though the text is from a short story by the late Donald Barthelme, one of my all-time favorite writers. In-depth listening to a musical composition and paying close attention to a spoken text seem to require different brain functions, or at least they seem to for me. However, an extremely persuasive cast has been assembled here who make a very compelling case for such a work–The Peabody Trio, for whom the work was written, and the legendary English baritone John Shirley-Quirk. The other thing that makes Sindbad so effective is that throughout its ten continuous movements Meltzer is always careful to let the text breathe and for the text and music never to get in each other's way. During the third movement, the text is completely unaccompanied, and in the seventh the music doesn't begin until the end of the narration. In one of the strangest twists I've ever heard in a musical composition with narration, the final movement ends with the narrator once again completely alone! At other times the music cleverly reinforces the natural spoken rhythms of Barthelme's quirky tale, a device which is particularly poignant in a hysterical passage in which the narrator describes being asked to leave the Beaux-Arts Ball by a young woman wearing only men's underwear who claims to be Lady Macbeth. Admittedly, I probably will not go back to Sindbad as frequently as I will go back to Brion, or Barthelme's collections of short stories for that matter, but it has continued to grow on me each time I've listened thus far and I imagine it will continue to do so with each subsequent exposure. And the same holds true for all the music on this disc."
— Frank J. Oteri, NewMusicBox, October 26, 2010
Sequenza21
"After having a couple of pieces featured on compilation recordings that appeared on the Albany imprint (including the memorable work Virginal for Sequitur), composer Harold Meltzer's first solo disc is on Naxos. Meltzer's music combines an incisive sense of rhythm — he's particularly thoughtful in setting the rhythms of speech — with a varied pitch palette that combines judicious but punctilious use of dissonance with lush, often haunting, moments of repose.
"The Cygnus Ensemble makes a palpable delineation between these two musical approaches on their sharply etched recording of Brion (2008). This piece was a finalist for the 2009 Pulitzer Prize in Music, and one can hear why. It's fastidious in its craftsmanship, yet abundantly imaginative. Centering around a bird call-based ritornello refrain, which easily moves between foreground and background presentation, its intricate design is just the type of work that's tailor made for Cygnus' modernist performance specialists. And Brion isn't sparing in its technical demands either. Guitar flurries are matched by virtuosic flute passages in several bustling duos. But the ritornello supplants this with an eerily pastoral music suffused with chirping birds and, at the piece's close, an intriguing, if somewhat uneasy, sense of harmonic closure.
"On Two Songs from Silas Marner, soprano Elizabeth Farnum negotiates the high tessitura with grace, bringing delicate shading of dynamics to her characteristic pitch-perfect accuracy.
"Both sprechstimme and monodrama have, not entirely unfairly, gotten a reputation for sounding carbon-dated at best and often mawkish when not well-deployed. While Sindbad may not entirely allay these misgivings, Meltzer's aforementioned talent for word-setting and a passionate performance by baritone (here as speaker) John Shirley-Quirk make a case for this hybridized musical/dramatic form. It certainly helps that the speaker is accompanied by such colorful and multifaceted music.
"Sequitur appears here too, accompanying baritone Richard Lalli in Exiles, a two-movement work featuring settings of Conrad Aiken and Hart Crane. Written in a kind of "bari-tenor" register (Exiles was originally composed for the tenor Paul Sperry), it could, in the hands of a lesser (or lower) baritone, seem a bit strained. But Lalli too negotiates the upper regions with a supple and, at times, surprisingly gentle approach. It well befits Exiles' haunting lyricism and limber long-lined melodies.
"All told, this disc is a very strong outing that begs for a sequel."
— Christian Carey, Sequenza21, November 14, 2010
Gapplegate Music Review
"Harold Meltzer, born in Brooklyn New York in 1966, has a lyrical logic to his music. He notes that he has been influenced by Stravinsky's Agon, and when you listen to his music you understand how. There are melodic cells that occur and recur in his pieces and they can be contrasting or similar, depending. And like middle-late Stravinsky those cells can vary stylistically. Meltzer's cells are lyrically memorable and the music flows with an ordered logic that pleases the aural mind's eye.
"This is what I have gleaned from listening to a new Naxos (8.559660) release of four chamber works he composed in the past decade: Brion, Two Songs from Silas Marner, Sindbad, and Exiles.
"Brion is a chamber gem, with vivid writing for guitar, mandolin, winds and strings. It's 18 minutes of musical bliss, well worth the price of admission. In fact it is all worthwhile.
"Sindbad, for violin, cello, piano, and John Shirley-Quirk as narrator, is an exception however, for reasons that have nothing to do with the music per se. It runs almost 30 minutes and the actual instrumental music parts are quite interesting. Now I suppose I should say straight off that recitation rather leaves me cold. If it's part of an opera and moves the plot along I can understand; otherwise I find very few things that can be said are worth saying rather than singing. Shakespeare, fine. The Gettysburg Address, again fine. "Sindbad" is a rather amusing story, but it does not hold its own as worth declaiming in its own right. Now that's not to take away from the text itself, or the music that goes along with it. I'll admit it is a personal prejudice I have. I didn't like it.
"But the songs and the chamber pieces are very engaging, well crafted, inspired. And the performances sound quite good. Hearing this CD, I want to hear more from Harold Meltzer. He has something going."
— Gapplegate Music Review, November 19, 2010
Fanfare
"Harold Meltzer is a younger composer who has a scrupulous ear that leads him to clearly defined gestures and sonorities, but the music is never dry or an illustration of some extramusical principle. Rather, it's always sonically fresh, timbrally seductive. One thinks a little of Stravinsky in its freshness, though that may be too big a monkey to place on his back. But the music definitely projects both rigor and sensuality, not a bad combo."
— Robert Carl, Fanfare, Issue 35:2 Nov/Dec 2011